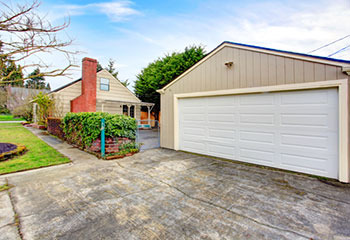 Garage door typically covers about 30% of your home's exterior. This is why it is important that you choose the right door that will best complement your home and at the same time address your family's needs. After determining the correct size you need, there are a few additional things you need to decide on.
Choosing The Right Type
The first option is a sectional door garage, which is the most popular one on the market today. The reason for that is they are composed of four or more horizontal panels, and instead of swinging out, the panels roll up and fold, due to the fact that they are connected by hinges. The main benefit this offers is that if the door is damaged, only the affected panels will need to be replaced, as opposed to the entire thing. The second option is a single panel garage door. This type is composed of a single panel that rises up and down. When open, it protrudes from the garage and forms a canopy outside of it, so a minimal amount of space will be required. The main benefit of such a door is that it offers more security and, since it doesn't have hinges, it can't pinch your fingers.
Finding The Best Material
Garage doors can be made from different materials, but there are three main options. Wooden doors are very beautiful and quite durable too. However, they need to be repainted every year or so and tend to be more expensive. Aluminum frame doors are lightweight and corrosion-resistant. However, rich textures and paint jobs do not do well with this kind of material. Also, it can be damaged rather easily, especially compared to the third option. Steel garage door models are very strong and offer added security. But they are also heavier and require a more powerful opener. Another issue is rust. They must be inspected for it and potentially applied with a protective substance.
Deciding On The Most Suitable Opener
This is the device that automates the performance of your garage door, and it can make your daily routine very convenient, or incredibly annoying. Chain drive opener models are the least expensive ones, but also the noisiest, and the ones that require the highest amount of maintenance. Belt drive openers are incredibly quiet and smooth, but they are often not as strong, and more expensive. Screw drive units are the fastest ones, but they aren't silent by any stretch and can sometimes be affected by temperature shifts.
At Your Service
If you want to consult with a professional before making your decision, we encourage you to call our team at Garage Door Repair Red Oak and ask our experts all your questions.