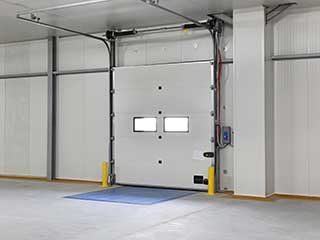 The components in charge of supporting the weight of your garage door are the springs. They play a very important role, and the door would be rendered inoperable if something goes wrong with them. However, dealing with these components can be incredibly dangerous, and must never be attempted by amateur DIY enthusiasts.
Stay Out Of The Danger Zone
Worn out garage door springs are dangerous. Like many of the system's different moving components, they tend to wear out over time. When this happens it is best not to be anywhere in the vicinity of your door. The tension stored within the spring can send it flying if it gets suddenly released, and anyone who happens to be standing by when that happens can get seriously injured. If that isn't bad enough it can also result in your garage door crashing down. Broken springs, or ones that are still intact, should never be handled by anyone other than a professional. That's where our team comes in.
Some Important Maintenance
With a little bit of care and attention you can avoid a lot of garage door springs problems. Regular lubrication will keep your torsion springs functioning more smoothly and silently for a longer period of time. Sometimes their tension will need to be adjusted as well, to make sure the door stays perfectly balanced. While the first task is something that you potentially could handle yourself, the latter one isn't. Spring replacement and adjustment are both tasks that you never be performed by amateurs, due to the potential dangers involved.
You Can Count On Us
Our team at Garage Door Repair Red Oak is here to ensure your extension and torsion springs are in the best condition possible. We'll make sure their coils aren't becoming deformed and that they are able to counterbalance the weight of your door panels without overexerting and breaking. If you're having any type of problem related to these components and find that you require emergency repairs, give us a call right away.
We also offer the following:
Opener Sensor Replacement
Garage Door Safety Inspections
Torsion Spring Adjustment