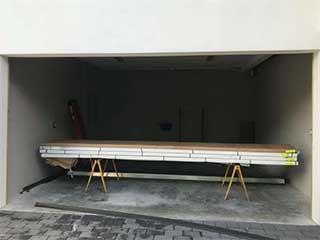 You can tell when your garage door is too old when it feels like it starts having problems every other week. Most units are very sturdy and are built to last for at least 20 years. When the time to replace your system comes, you can always count on our experts at Garage Door Repair Red Oak to do a clean and professional work. We will remove your old door and install the new model of your choice in its place. This includes removing the old tracks, rollers and springs and installing the new ones in their place as well. If you'll need to have a new opener set up, you can count on us to take care of that as well. The replacement project will be completed on the time scheduled, and we will make sure the unit is performing flawlessly and to your full satisfaction.
New Door & A New Look
Installing a new garage door can dramatically change the look of your home. Choosing the right style and material can transform your curb appeal and upgrade the look of your home to give it a more contemporary feel. For those interested in selling their home, this simple cosmetic alteration can actually translate into more dollars in your pocket. Sandblasted and powder coat finishes are both simple ways to add texture and dimension to a door and increase its visual appeal. Insulation can also be added in various ways, which will provide additional enhancement and help you save money on energy in the long run. The right detail can help highlight other aspects of your home and create a more cohesive look. While a garage door serves a practical purpose, that doesn't mean that it can't also provide the best in form.
The Materials To Choose From
There are a few different types of material that your new door can be made of, each with its distinct characteristics and benefits. Wooden garage door models are known for their beauty and natural insulating quality. Their only downside is they require more maintenance than other types, and must be regularly repainted to stay in good condition. Steel garage doors are very strong and add a great sense of security. However, they are also heavier and require a more powerful opener. They can also rust, and must be applied with a protective layer to prevent that from happening. As for aluminum door models, they are very light and don't require a lot of horsepower to be moved. They barely need to be maintained, as they don't rust. Their one major downside is that they can dent rather easily and aren't as good in terms of security.
Give Us A Call
If garage door replacement is what you're after, don't hesitate to reach out to our team and let us help you find the perfect new model for your home. Once you've made your choice, we'll take care of the replacement and installation process for you quickly and effectivly.