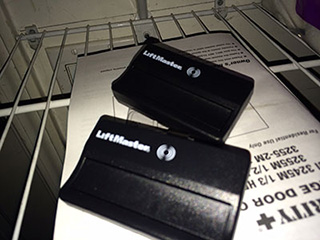 The same radio technology that was used to detonate bombs in WWII was also used to create the first remote controlled garage door opener. The concept was fairly simple: a transmitter would emit a certain radio frequency that the receiver would be listening for in order to trigger operation. The main problem with the early garage door remote control models was that the same signal was used for several systems. When people went to open their own door, they often ended up opening their neighbor's as well. This problem sent designers back to the drawing board.
The Second Generation
During the 1980s, engineers relied on a code system that allowed them to program each garage door opener with a specific code. With over 3 billion codes, the chances of your neighbor owning a device that used the same code were pretty slim. These newer models could even be reprogrammed if the code ever needed to be changed.
Modern Remote Controls
The remote controls used to operate today's garage door opener models use on what's called "rolling code technology". This means that every time you press the button to open or close your door, the remote changes it's access codes. It is by far the most secure method for ensuring that no one can use your opener to get inside your garage without having the remote with them. In the past, tech-savvy burglars would intercept the code transmissions and then replay them later to get inside the garage. Using rolling code technology prevents that, as the code they will intercept will be useless by that point.
Common Problems With Remotes
Before you call us for garage door repairs after you discover your door won't open suddenly, come you may want to take a moment to check your remote control. Dead batteries are far too often the cause of such an issue, and you'd be surprised how often people forget to check them. It might sound silly, but that really is the number one reason for a door that won't open. Today's remote controls and openers are sophisticated and durable. The chance that a major component will simply stop working is pretty slim, albeit, not impossible. Still, to save yourself the effort it will only take you a minute to check the batteries. If new batteries don't do the trick, give our expert technicians a call and let us take the garage door troubleshooting efforts off your hands.