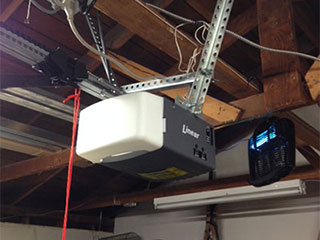 Garage door openers have revolutionized the industry. Being able to automatically open and close a garage door with just the click of a button provides easy access and convenience. Modern models also add a sense of security, due to various technological features they incorporate that help protect your home from intruders. LiftMaster garage door opener models are definitely some of the most popular ones that are available today, but there are other major brands who dominate the market, like Chamberlain, Genie, and Craftsman, for example. Our company has a full line up of the highest quality openers including these brands and more for you to choose from.
The Potential Problems
While a garage door opener may give you many years of hassle-free service, it can break down, especially if you have not been able to regularly maintain it. If your model won't function properly, you can try a few things to troubleshoot it. First, change the batteries of your remote. You'd be surprised how often people neglected to check this. If it still won't work, then the problem could be something with the motor, the circuit board, the safety sensors, or some other part of the drive system. These are more complex components that require an expert's understanding to be fixed. It's best that you leave the opener repair process to our team in order to avoid getting hurt or exacerbating the problems.
When a New Unit Is Required
Aside from repairs, we can also install new openers. We'll make sure you understand the different benefits chain drive and belt drive opener models offer, and choose one that is the perfect fit for your specific needs. During the installation process, our technicians will ensure everything is set up properly and tightly fastened to its correct position. We find that improper installation is often the cause of more frequent problems later on, which is why we take special care to see to it that everything is installed perfectly. We also work with quiet efficiency—meaning our work will not disrupt the routine of your household.
The Right Team To Call
You can count on our experts at Garage Door Repair Red Oak to take care of all your opener related needs. Contact us today if you need us to perform any replacement or maintenance work for you.
Need more? We also provide:
Broken Spring Replacement & Repair
Garage Door Cable & Track Repairs
Genie Garage Door Openers
Screw Drive Opener Replacement