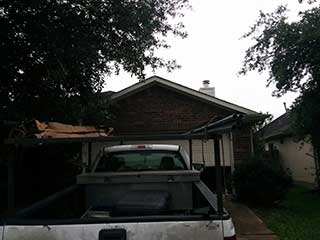 An automatic garage door system is usually used on a daily basis, which means it is almost always under some type of strain. As a matter of fact, some people tend to use this system more frequently than they may use their own front door. After all, if you've just parked your car, it would be much quicker and more convenient to enter your home via the garage, especially if you've got stuff to carry, like groceries or gym equipment. It's therefore no surprise that the more you use your door, the more wear and tear it goes through. Some of its different working parts will inevitably break, at which point you'll be faced with a decision.
Professional Repair or DIY?
Before you decide to try and fix the problem with your door by yourself, you should understand that while there is a boatload of online articles and videos that claim to provide qualified theoretical instruction, they can never substitute the experience and skill of a professional garage door repair technician. What's even worse is that not all of the information you find on the Internet can be trusted, for a whole number of reasons.
The Main Risks
If you're unfamiliar with the many different components that make up the door's lift mechanism, it can be all too easy to accidently cause more harm than good. What may have been a small problem could quickly escalate into a real issue. Plus, there's also the risk of injury, either from the door itself, or from its other parts. A broken garage door spring can be incredibly dangerous, and will make it impossible for you to open your door. A broken cable, or bent tracks, for that matter, will also prevent the panels from moving, and dealing with them will require the help of an expert.
Common Recurring Issues
Our expert technicians deal with a wide variety of problems on a daily basis. Some of the most common issues are problems with the opener motor gear, which tends to wear out over time, and issues with the rollers and the panels. A door that lowers too fast, doesn't fully open, or won't open at all can be the result of a variety of issues.
We're Here For You
Wherever the problem lies, you can count on our experts at Garage Door Repair Red Oak to handle it. Give us a call today and let our technicians fix whatever's wrong with your door.
Couldn't find what you're looking for? We also offer:
Galvanized Torsion Spring Installation
Garage Door Opener Track Maintenance
Emergency Broken Spring Replacement
Door Opener Troubleshooting Services